This small post shows how to build a simple temperature measurement station using ESP8266 NodeMCU development board and DS18B20 digital temperature sensor where the measured temperature is displayed on SSD1306 OLED screen (128×64 Pixel) and sent serially to Arduino IDE serial monitor.
The DS18B20 sensor is a 3-pin electronic component (like a simple transistor) from Maxim (formerly Dallas) which uses 1-wire protocol to communicate with master device (microprocessor, microcontroller ….). Each DS18B20 device has a unique 64-bit serial code, which allows multiple DS18B20s to function on the same 1-Wire bus and controlled with one master device.
The DS18B20 sensor provides 9-bit to 12-bit Celsius temperature measurement resolution (programmable resolution).
The DS18B20 sensor is available in 8-Pin SO (150 mils), 8-Pin μSOP, and 3-Pin TO-92 Packages. DS18B20 pin configurations is shown below: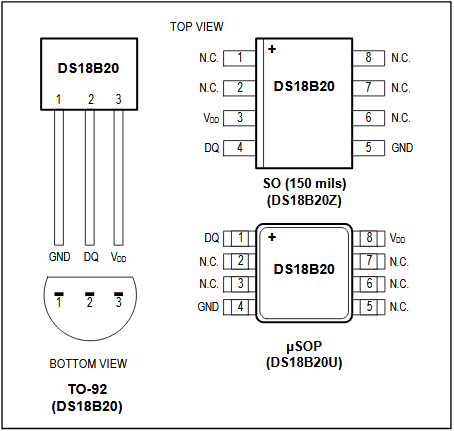 The SSD1306 OLED used in this project is configured to work in I2C mode, some SSD1306 OLED boards may require a small hardware modifications (to select between SPI mode or I2C mode) such as soldering, placing jumpers ….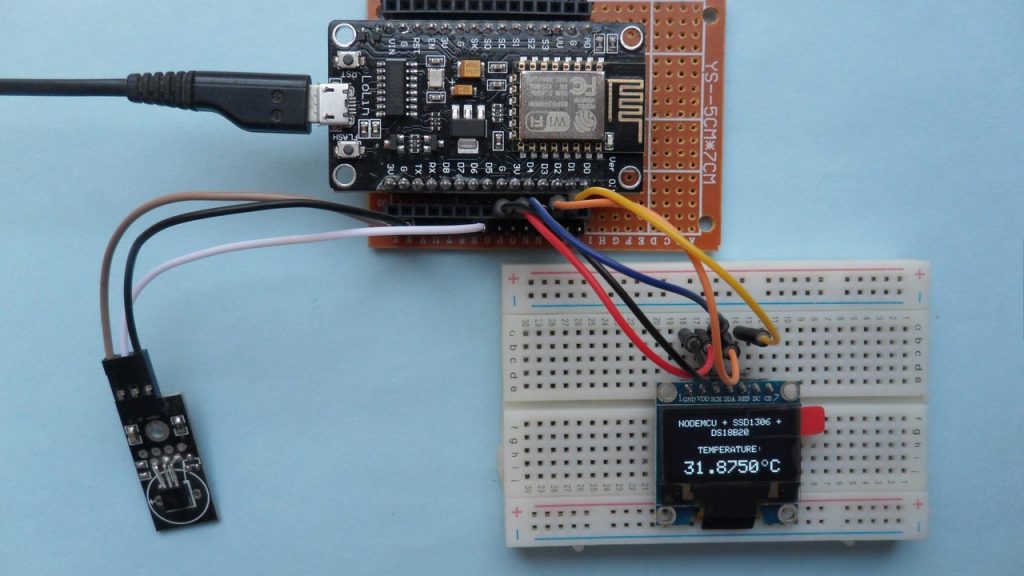 Related Projects:
ESP8266 NodeMCU interfacing with SSD1306 OLED
ESP8266 NodeMCU interfacing with DHT11 sensor and SSD1306
Interfacing NodeMCU with DHT22 sensor and SSD1306 OLED
Hardware Required:
ESP8266 NodeMCU development board
SSD1306 OLED display with 128×64 Pixel resolution
DS18B20 temperature sensor — datasheet
4.7k ohm resistor
micro USB cable (for programming and powering the circuit)
Breadboard
Jumper wires
NodeMCU Interfacing with SSD1306 and DS18B20 circuit:
The following image shows project circuit schematic diagram.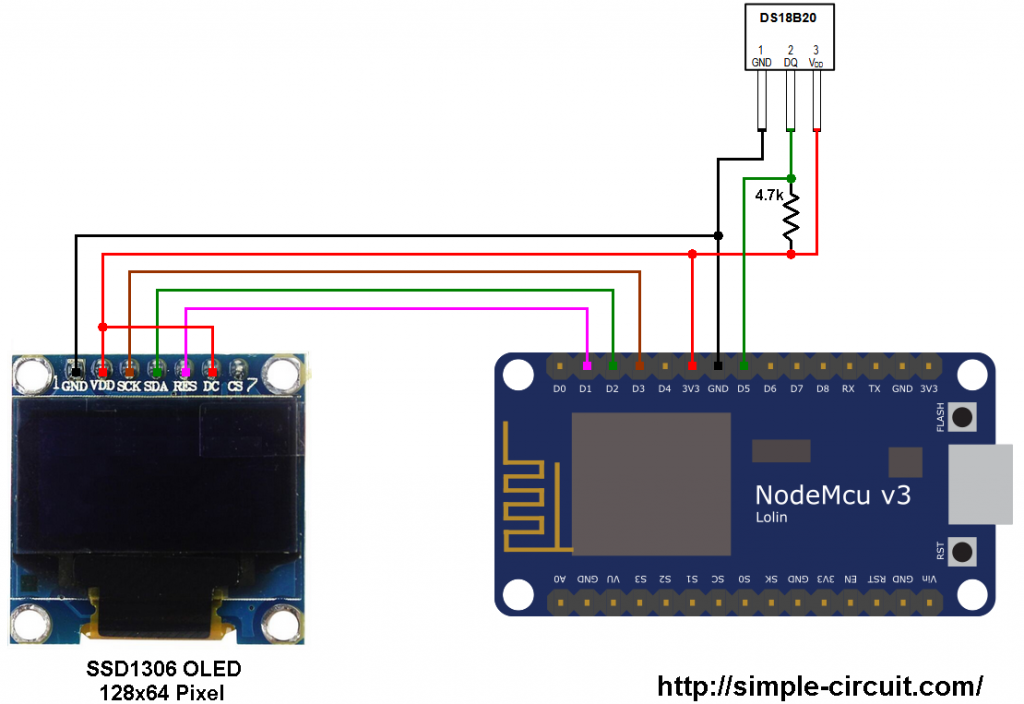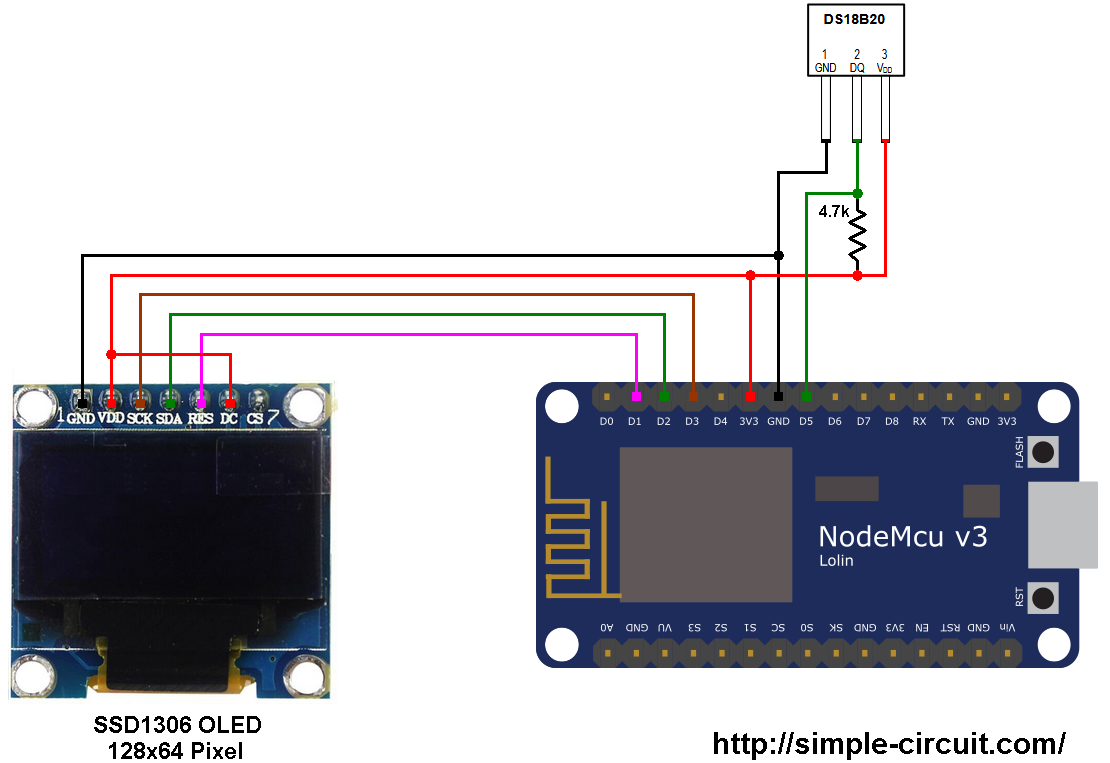 and the following one shows fritzing circuit:
The SDA and SCL lines of the I2C bus come from GPIO4 (D2) and GPIO0 (D3) of the NodeMCU board (respectively), they are connected to SDA and SCL (SCK) pins of the SSD1306 display module.
Reset pin (RES) of the display module is connected to GPIO5 (D1) of the NodeMCU development board.
The DS18B20 sensor has 3 pins: VCC (+5V), data and GND. The data pin is connected to pin D5 (GPIO14) of the NodeMCU module. A pull-up resistor of 4.7k ohm is required for the data pin.
The SSD1306 display module and the DHT22 (AM2302) sensor are supplied with 3.3V which comes from the NodeMCU board.
NodeMCU Interfacing with SSD1306 and DS18B20 code:
Example Arduino code is below, it doesn't use any library for the DS18B20 sensor, but it requires Adafruit SSD1306 OLED display driver and graphics library.
Functions used in the code:
bool ds18b20_start(): used to know if the DS18B20 sensor is correctly connected to the circuit, returns 1 if OK and 0 if error.
ds18b20_write_bit(bool value): writes (sends) 1 bit to the DS18B20 sensor, the bit is 'value' which may be 1 or 0.
ds18b20_write_byte(byte value): writes 1 byte (8 bits) to the DS18B20 sensor, this function is based on the previous function. This function writes LSB first.
bool ds18b20_read_bit(void): reads 1 bit from the DS18B20 sensor, returns the read value (1 or 0).
byte ds18b20_read_byte(void): reads 1 byte from the DS18B20 sensor, this function is based on the previous function. This function reads LSB first.
bool ds18b20_read(int *raw_temp_value): reads the temperature raw data which is 16-bit long (two 8-bit registers), the data is stored in the variable raw_temp_value, returns 1 if OK and 0 if error.
The value of the temperature in degree Celsius is equal to the raw value divided by 16 (in case of 12-bit resolution). The default resolution of the DS18B20 is 12 bits.
1

2

3

4

5

6

7

8

9

10

11

12

13

14

15

16

17

18

19

20

21

22

23

24

25

26

27

28

29

30

31

32

33

34

35

36

37

38

39

40

41

42

43

44

45

46

47

48

49

50

51

52

53

54

55

56

57

58

59

60

61

62

63

64

65

66

67

68

69

70

71

72

73

74

75

76

77

78

79

80

81

82

83

84

85

86

87

88

89

90

91

92

93

94

95

96

97

98

99

100

101

102

103

104

105

106

107

108

109

110

111

112

113

114

115

116

117

118

119

120

121

122

123

124

125

126

127

128

129

130

131

132

133

134

135

136

137

138

139

140

141

142

143

144

145

146

147

148

149

150

151

152

153

154

155

156

157

158

159

160

161

162

163

164

/**************************************************************************************

ESP8266 NodeMCU interfacing with SSD1306 OLED and DS18B20 temperature sensor

This is a free software with NO WARRANTY.

http://simple-circuit.com/

***************************************************************************************/

#include <Adafruit_GFX.h>

#include <Adafruit_SSD1306.h>

#define OLED_RESET 5 // define SSD1306 OLED reset at ESP8266 GPIO5 (NodeMCU D1)

Adafruit_SSD1306

display

(

OLED_RESET

)

;

#define DS18B20_PIN 14 // DS18B20 data pin is connected to ESP8266 GPIO14 (NodeMCU D5)

char

*

temp

=

"000.0000 C"

;

Wire

.

begin

(

4

,

0

)

;

// set I2C pins [SDA = GPIO4 (D2), SCL = GPIO0 (D3)], default clock is 100kHz

// by default, we'll generate the high voltage from the 3.3v line internally! (neat!)

display

.

begin

(

SSD1306_SWITCHCAPVCC

,

0x3D

)

;

// initialize with the I2C addr 0x3D (for the 128x64)

// Clear the display buffer.

display

.

setTextColor

(

WHITE

,

BLACK

)

;

display

.

print

(

"NODEMCU + SSD1306 +"

)

;

display

.

setCursor

(

43

,

15

)

;

display

.

print

(

"DS18B20"

)

;

display

.

setCursor

(

28

,

34

)

;

display

.

print

(

"TEMPERATURE:"

)

;

display

.

setCursor

(

1

,

50

)

;

if

(

ds18b20_read

(

&

raw_temp

)

)

Serial

.

printf

(

"Temperature = %8.4f°C\r\n"

,

(

float

)

raw_temp

/

16

)

;

if

(

raw_temp

&

0x8000

)

// If the temperature is negative

temp

[

0

]

=

'-'

;

// Put minus sign (-)

raw_temp

=

~

raw_temp

+

1

;

// Change temperature value to positive form

if

(

(

raw_temp

>>

4

)

>=

100

)

// If the temperatue >= 100 °C

temp

[

0

]

=

'1'

;

// Put 1 of hundreds

temp

[

0

]

=

' '

;

// put space ' '

// Put the first two digits ( for tens and ones)

temp

[

1

]

=

(

(

raw_temp

>>

4

)

/

10

)

%

10

+

'0'

;

// Put tens digit

temp

[

2

]

=

(

raw_temp

>>

4

)

%

10

+

'0'

;

// Put ones digit

// Put the 4 fraction digits (digits after the point)

// Why 625: because we're working with 12-bit resolution (default resolution)

temp

[

4

]

=

(

(

raw_temp

&

0x0F

)

*

625

)

/

1000

+

'0'

;

// Put thousands digit

temp

[

5

]

=

(

(

(

raw_temp

&

0x0F

)

*

625

)

/

100

)

%

10

+

'0'

;

// Put hundreds digit

temp

[

6

]

=

(

(

(

raw_temp

&

0x0F

)

*

625

)

/

10

)

%

10

+

'0'

;

// Put tens digit

temp

[

7

]

=

(

(

raw_temp

&

0x0F

)

*

625

)

%

10

+

'0'

;

// Put ones digit

display

.

drawCircle

(

102

,

53

,

3

,

WHITE

)

;

// Put degree symbol ( ° )

Serial

.

println

(

"Communication Error!"

)

;

display

.

print

(

" Error! "

)

;

digitalWrite

(

DS18B20_PIN

,

LOW

)

;

// Send reset pulse to the DS18B20 sensor

pinMode

(

DS18B20_PIN

,

OUTPUT

)

;

delayMicroseconds

(

500

)

;

// Wait 500 us

pinMode

(

DS18B20_PIN

,

INPUT_PULLUP

)

;

delayMicroseconds

(

100

)

;

//wait to read the DS18B20 sensor response

if

(

!

digitalRead

(

DS18B20_PIN

)

)

{

ret

=

1

;

// DS18B20 sensor is present

delayMicroseconds

(

400

)

;

// Wait 400 us

void

ds18b20_write_bit

(

bool

value

)

digitalWrite

(

DS18B20_PIN

,

LOW

)

;

pinMode

(

DS18B20_PIN

,

OUTPUT

)

;

digitalWrite

(

DS18B20_PIN

,

value

)

;

pinMode

(

DS18B20_PIN

,

INPUT_PULLUP

)

;

void

ds18b20_write_byte

(

byte

value

)

ds18b20_write_bit

(

bitRead

(

value

,

i

)

)

;

bool

ds18b20_read_bit

(

void

)

digitalWrite

(

DS18B20_PIN

,

LOW

)

;

pinMode

(

DS18B20_PIN

,

OUTPUT

)

;

pinMode

(

DS18B20_PIN

,

INPUT_PULLUP

)

;

value

=

digitalRead

(

DS18B20_PIN

)

;

byte

ds18b20_read_byte

(

void

)

bitWrite

(

value

,

i

,

ds18b20_read_bit

(

)

)

;

bool

ds18b20_read

(

int

*

raw_temp_value

)

if

(

!

ds18b20_start

(

)

)

// Send start pulse

ds18b20_write_byte

(

0xCC

)

;

// Send skip ROM command

ds18b20_write_byte

(

0x44

)

;

// Send start conversion command

while

(

ds18b20_read_byte

(

)

==

0

)

;

// Wait for conversion complete

if

(

!

ds18b20_start

(

)

)

// Send start pulse

return

(

0

)

;

// Return 0 if error

ds18b20_write_byte

(

0xCC

)

;

// Send skip ROM command

ds18b20_write_byte

(

0xBE

)

;

// Send read command

*

raw_temp_value

=

ds18b20_read_byte

(

)

;

// Read temperature LSB byte and store it on raw_temp_value LSB byte

*

raw_temp_value

|=

(

unsigned

int

)

(

ds18b20_read_byte

(

)

<<

8

)

;

// Read temperature MSB byte and store it on raw_temp_value MSB byte

return

(

1

)

;

// OK --> return 1
Arduino IDE serial monitor output for temperature and relative humidity is shown below: